Teeth Cleaning & Prevention
Stephenville, TX Teeth Cleanings & Dental Hygiene
Preventative care and early detection of issues is the best way to prevent tooth decay, infections, or even gum disease. If you maintain good home cleaning practices and combine that with regular exams and cleanings from the dentist, you will be able to prevent expensive dental treatments.
The first step of prevention is controlling the buildup of plaque and calculus on your teeth. These two combined are the main sources of tooth decay and gum diseases. Our dental hygienists are available to assist you in proper home dental hygiene and healthy management of your gums.
Cleanings
Regular dental cleanings  performed by a registered dental hygienist are very important. When you have a cleaning done at our office, we will be able to remove plaque, and potentially tartar, that might not be able to be taken care of at home. Our hygienists will utilize manual instruments to remove moderate plaque and tartar buildup, or might  use an ultrasonic device to take care of heavier, more intense buildup. Once the cleaning is done, we will finish your appointment by polishing your teeth. This process will have your mouth feeling fresh, help remove stains, and whiten your teeth!
Dental Exams
Even if you are very strict with the care of your teeth at home, you should still see a dentist twice a year to make sure there are no serious issues you might not be able to diagnose at home. Regularly scheduled exams are key to good oral health, and we can not emphasize that enough. Regular check-ups are great for detecting potentially big problems. Early detection of these issues makes treatment easier, less expensive, and more successful. During your dental exam, our dentist or hygienist will perform the following checks to make sure you are in good oral health:
Examine and assess your gum health to check for gum disease
Diagnose any existing tooth decay
Take and analyze x-rays, if needed. These may reveal decay, bone loss, abscesses, tumors, cysts, and other potential issues
Screen for oral cancer
Verify the stability of any existing fillings or other restorations that might need work
Inform you of the diagnosis and make treatment plans & recommendations
Brushing Your Teeth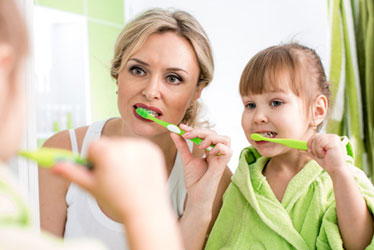 Plaque can be very damaging but can easily be removed by regular brushing. Plaque can build up on your teeth fairly quickly after eating and drinking and if you ignore brushing and flossing, you run the risk of developing tooth decay to gum disease. It can take only one day for enough bacteria to build up to have gum disease start.
If you leave plaque on your teeth for too long, it can harden and become tartar. Tartar is not good, as it typically cannot be removed with a normal toothbrush. Your hygienist will have the proper instruments to remove tartar. This is why it is so important to see your dentist regularly.
Flossing
Daily flossing is a great way to clean teeth where regular brushing simply can't. To floss properly, take about 18″ of dental floss, wrap it around the middle finger of each hand and pinch it between your thumb and index finger. You will want to then pull the floss tightly and slide it between your teeth and get it slightly below the gum-line. Slide the floss up and down your teeth to remove the plaque that might have been built up. If you perform this daily you will be sure to have healthy teeth and gums.
Mouth Rinses
Over-the-counter mouth wash can help to fight bad breath, remove loose food particles after brushing, freshen breath, and keep gum disease at bay. Mouth rinses are never a substitute for brushing, flossing, or regular dental examinations. They may disguise warning signs of periodontal disease, so even if you do use rinses for preventative purposes, always continue to visit your dentist.
Periodontal Treatment for Gum Disease
Gingivitis is the initial onset of periodontal diseases as it only affects the soft tissues. Plaque buildup will lead to tartar and bacteria below the gum-line that can lead to inflamed, irritated, or bleeding gums. Gingivitis is treatable and reversible. A good professional cleaning that is combined with great at home treatment, will lead to a healthy mouth.
Periodontitis
Periodontitis is more severe and can destroy your jawbone and surrounding areas. The surrounding areas can include the gums, fibers, and bone that anchor the teeth in to the jaw. Periodontal disease is the number one cause of tooth loss in adults. Even though the bone that has been lost due to severe gum diseases can not be saved, aggressive treatment and great home care will keep it from getting worse.
Diagnosis
Early signs of gum disease can include redness and inflammation. If these warning signs appear the dentist or hygienist might use a tool called a probe that will test the gums for bleeding and measure periodontal pockets. X-rays will also be used to make sure the bones in your jaw are healthy. Diabetes and smoking can also lead to poor gum health, even though the main cause is poor dental hygiene.
Treatments
Gingivitis is easily prevented with professional cleanings and proper home care to make sure you don't develop tartar buildup. Dry mouth, braces, mouth-breathing, and many other factors could contribute to gingivitis. Our office will work with you to make sure you maintain a healthy smile and your gums don't develop any sort of disease.
Periodontitis typically requires more aggressive treatments. A deep cleaning that involves scaling may be needed. This treatment will remove plaque, calculus, and tartar buildup below the gums. For your comfort and convenience, local anesthesia will be administered during the deep cleaning process. This could take 2 or more visits and will be finished with a polish and final examination to assess the health of your gums before we send you on your way.
The use of a slow-released antibiotic may be necessary as well as prescription mouth rinses to make sure your smile is at 100%.
Periodontitis patients frequently require cleanings and check-ups about every 3-4 months. With proper home care and regular dental check-ups, patients will not need to worry about gum disease and will be able to enjoy going to the dentists office.
MOST INSURANCES WELCOME AND MAXIMIZED!
NEW PATIENT SPECIALS & FINANCING OPTIONS AVAILABLE.
Contact us and schedule your visit today.
The Proof is in Our Patients

"Always attentive and kind. The office staff work hard to make sure billing is done as agreed. Service is on-time and you spend just the right amount of time for the visit."
"Great staff that is always helpful and professional. Attention to detail is second to none when it comes to my child and the care she receives."
Very friendly staff and nice office. Enjoyed meeting Dr. Barberee, my new dentist! Appreciated the later appointment time for a cleaning! Highly recommend!"
"Very friendly staff! Super fast with no wait! Always up to date on newest research and technology too! Dr. Barberee is the cherry on top, he's the best and so nice! Not to mention very gentle!"
$150 Exam, X-Ray, and
Routine Cleaning
Walk-in & Emergency
Appointments Available
Open Daily For Your Convenience!
Mon, Wed, Thurs: 8:00 am – 5:00 pm
Tuesday: 8:00 am – 6:00 pm
Friday: 8:00 am -12:00 pm