Pediatric Dentistry in Stephenville, TX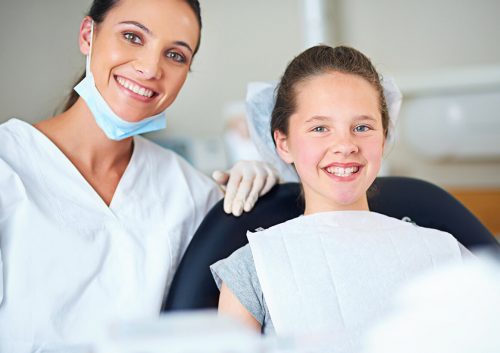 Your children's dental needs are important, so we tried to answer some of the big questions regarding children'd dental needs. Please call our office if you have any questions or would like to schedule and appointment for your children.
Are baby teeth really that important to my child?
Everyone loves a toddler's smile! Even though primary (baby) teeth fall out eventually, they are very important for multiple reasons. They help children speak clearly and have a natural feeling chew. They are important for overall gum, bone, and tooth health and aid in the path that permanent teeth will grown in.

What should I use to clean my baby's teeth?
Starting at birth, it is highly important to develop good habits to make sure your child's mouth is not developing gum disease or having bacteria build up. For newborns, you should clean the gums with a soft, toothbrush designed for infants or a clean cloth and water. Once the teeth begin to pop through, start brushing at least once a day, the best time typically being at bedtime. Toothbrushes designed for infants is preferable once brushing is required. As more teeth come through and the child's diet becomes more varied, you should slowly transition to twice a day brushing.
Should I use toothpaste with my child?
The American Dental Association recommends using fluoride toothpaste when you start using a toothbrush with your child. Use a very small amount of toothpaste for a child that is less than 2 years of age. For children between 2-5 years of age, using a pea-size amount of toothpaste is recommended while teaching them proper technique so they know the proper way to brush during the most vital stages. Always assist your child when they are first learning how to brush so they do not swallow any excess toothpaste.
When should I schedule my child's first dental appointment?

The American Dental Association, American Academy of General Dentistry, and the American Academy of Pediatric Dentistry all recommend that your child's first visit to the dentist should happen around their first birthday, or around the time their first tooth pops through. Being proactive early with your child's dental visits not only helps them become more comfortable with the dentist, but we will be able to assess their overall oral health to make sure there are not major issues.
Please do not wait for there to be an emergency for you to come see the dentist! This can lead to major issues down the road and could develop an irrational fear of the dentist at an early age.
What about bedtime nursing or having a bedtime bottle for my kid?
Bedtime bottles should only contain water. There should never be juice, formula, or milk in the bottle. Since your child won't be brushing his or her teeth after consuming drinks like these. If drinks that contain sugars are consumed prior to sleeping, cavities can be developed on young teeth. If you nurse your child to sleep you should consider rinsing your son or daughters mouth with water afterwards to avoid the potential for decay. The Academy of General Dentistry instructs parents to clean and massage the baby's gums after feeding to help establish healthy teeth and to ease teething pains. Do this by wrapping a moistened gauze square or washcloth around your finger and massage the gums.
What should I do if my child has a toothache?
You will first want to have the irritated area rinsed with warm salt water and place a cold compress on the face if it is swollen. Give the child a safe dose of acetaminophen for any pain. Do not put aspirin or any other analgesic on the teeth or gums. If it is persistent, please contact our office to see us as soon as possible.
Are thumb sucking and pacifier habits harmful for a child's teeth?
Thumb and pacifier sucking habits typically go away as time passes. They only become an issue if it continues in to adulthood. If they are still sucking their thumbs or fingers past the age of three, you may need a mouth appliance to correct any irregularities that have developed and to curb the bad habit.
How often does my child need to see the dentist?
A regular checkup that occurs every six months is highly recommended. Our office will be able to adjust exam schedules depending on their personal oral health. We can also help with proper techniques and habits to assist your child for having the absolute best chances for great oral health. Proper home treatments that are combined with regular dental visits and a healthy diet will help give your child healthy teeth and gums that will last.
How do I make sure my child's diet is safe for their teeth?
Make sure your child has a health and balanced diet that includes whole grains, fruits, vegetables, and good sources of calcium and protein. Foods such as legumes, dairy products, or meats and eggs are great. Avoid foods high in refined sugars and limit the servings of sugars and starches they do get to enjoy. Always make sure good brushing habits and instructions are being followed to avoid cavities and decay. Our office will be more than happy to help you figure out a diet plan that is safe for your child's teeth and overall health.
What are dental sealants and how do they work?
Dental sealants are thin, plastic coatings that are applied to the chewing surfaces . They fill in the crevasses there, keeping out food particles that could get caught in the teeth and cause cavities. The application is fast and comfortable and can effectively protect teeth for many years.
How do I know if my child is getting enough fluoride?
If you child is not getting the required amount of fluoride, we might prescribe a fluoride supplement to ensure  that your child is getting the proper amount. The American Dental Association recommends using a fluoride toothpaste as well to make sure their teeth are protected.
What can I do to protect my child's teeth during sporting events?
Protecting your child's teeth, lips, cheeks, and gums from sport-related injuries is very important. Make sure you get a well-fitting mouth guard so that you can provide protection from severe injuries to the teeth and jaws. Our office can also help you out in customizing a proper fitting mouth guard.
What should I do if my child's permanent tooth is knocked out?
Make sure you remain calm and find the tooth if you can. Contact our office and head there as soon as possible so we can diagnose the situation in detail and give you the proper care that you need.
Hold the tooth by the crown and NOT the root and clean it with water if it is dirty. Try to reinsert it in to the socket if possible. If that is not possible, and there is no imminent medical emergency such as uncontrolled bleeding, unconsciousness, or other bodily injury, put the tooth in a glass of milk or an emergency tooth preservation kit. Contact us immediately, and bring your the tooth to our office for an evaluation.
How safe is dental digital radiography?
There is almost no risk. Dentists are careful and try to limit the amount of radiation that children are exposed to. Our office uses lead aprons to ensure safety and minimize the amount of radiation that your body gets exposed to.
MOST INSURANCES WELCOME AND MAXIMIZED!
NEW PATIENT SPECIALS & FINANCING OPTIONS AVAILABLE.
Contact us and schedule your visit today.
The Proof is in Our Patients

"Always attentive and kind. The office staff work hard to make sure billing is done as agreed. Service is on-time and you spend just the right amount of time for the visit."
"Great staff that is always helpful and professional. Attention to detail is second to none when it comes to my child and the care she receives."
Very friendly staff and nice office. Enjoyed meeting Dr. Barberee, my new dentist! Appreciated the later appointment time for a cleaning! Highly recommend!"
"Very friendly staff! Super fast with no wait! Always up to date on newest research and technology too! Dr. Barberee is the cherry on top, he's the best and so nice! Not to mention very gentle!"
$150 Exam, X-Ray, and
Routine Cleaning
Walk-in & Emergency
Appointments Available
Open Daily For Your Convenience!
Mon, Wed, Thurs: 8:00 am – 5:00 pm
Tuesday: 8:00 am – 6:00 pm
Friday: 8:00 am -12:00 pm